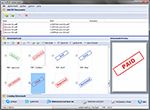 A-PDF Watermark, the smart and handy tool is useful for stamping Acrobat PDF files with text, image or graphic watermarks.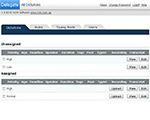 Express Delegate Dictation Manager Free, to make dictation jobs done easily and quickly through a simple web interface.


Full Cleaner review
Price

$19.95

Publisher
Full Studio
File size
4700 KB
Date reviewed
30 April 2016

Full Cleaner, to remove the clutter of unused files from your system keep it running fast and flawless.
As the name suggests, this amazing tool is all you need to regain your system speed and performance. This tool is capable of dealing with the unused files that pile up causing slowdown in your system speed. This tool includes features like: the ability to trace and clean your online activities such as your Internet history, support for a fully featured registry cleaner, optimize your system parameters, ability to physically defragmenting your registry files, provides you with a quick and customized scan over your system, displays detailed information of your system, Clears Windows's Recycle Bin, Recent Documents, Temporary files, Log files, Clipboard, DNS Cache, Error Reporting, Memory Dumps, Jump Lists, and so on.
Optimize and clean your system with this amazing tool compatible with your Windows 8, 7, Vista, 2000, and XP.